A recent story on reuters.com has put a spotlight on the hectic workload of South Koreans. Dealing with the grueling daily pressures of work, young professionals have voluntarily decided to pay $90 to spend 24 hours locked up in a mock prison.
Founded 2013, the "Prison Inside Me" facility has hosted more than 2,000 inmates, many of them stressed office workers and students seeking relief from South Korea's demanding work and academic culture.
Prison rules are strict. No talking with other inmates. No mobile phones or clocks.
Clients get barest of necessities - a prison uniform, a yoga mat, tea set, a pen and notebook. They sleep on the floor. There is a small toilet inside the room, but no mirror. The menu is sparse, with steamed sweet potato and a banana shake for dinner, and rice porridge for breakfast.
Co-founder Noh Ji-Hyang said the mock prison was inspired by her husband, a prosecutor who often put in 100-hour work weeks. A downturn in South Korea's economy has intensified a hyper-competitive school and work environment that experts say adds to a high incidence of stress and suicide.
According to the article, South Koreans worked 2,024 hours on average in 2017, the third longest after Mexico and Costa Rica, in a survey of 36 member countries in the Organization for Economic Cooperation and Development (OECD).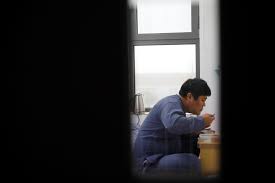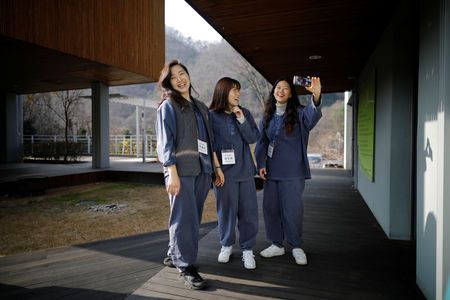 Photography by Kim Hong-Ji